Key events
half-time entertainment. Something for fans of Scotland and Ireland to enjoy.
HALF TIME: Scotland 0-1 Republic of Ireland
Ireland are on course to score again in Scotland.
45 min +1: Cullen almost picks up a second yellow in short order, crashing late on a Hickey in the plane. The referee did him a favor there. The resulting free kick is sent into the mixer, and Dykes has his shot blocked by Egan.
45 minutes: Cullen is singled out for reacting badly to Knight's garden-variety foul on McGinn. He has no referee.
44 min: Doherty chases a ball down the right wing. Taylor is shepherding the game. Doherty grabs him in the back and accidentally kicks him in the back of the leg. One injury, but thankfully the new left one is back on its feet soon.
43 min: McGinn's corner is poor and flies straight into Bazunu's throat.
42 min: Tierney disappears into the tunnel. He is replaced by Greg Taylor. Meanwhile, Dykes dives right in and Scotland win a corner.
40 min: Ireland deal with a second corner. Scotland are down to ten men for a minute as the final decision is made on Tierney.
39 min: Tierney is up and says he's fine, but I'm not sure if his physique will allow him to continue. He leaves shaking his head angrily. Meanwhile, VAR shows no interest in pulling Parrott.
38 min: Before the second corner was taken, the physio came over Tierney, who had his arm pulled by Parrott and went down, before taking an accidental kick to the head. VAR can look into it.
37 min: McTominay wins the ball from Molumby and sends Armstrong into space on the right. His cross is deflected for a corner on the right, which is deflected to another on the left. Meanwhile, here's Colum Farrelly: "Scott McTominay will miss the Ukraine match if it's booked, you tell us. But it will be booked, won't it? The only question is when. I 55 minutes I'm going."
35 minutes: McClean crosses long from the left. Parrott finds it on the far post, forcing Gordon to finish off a top left header. But Parrott had only met the ball after Tierney had flicked it on the back, and it didn't come off.
33 min: Collins cuts in from the right wing and crosses for McClean, whose deflected cross leads to a short game of header tennis and eventually a pressing error on McTominay.
31 min: Armstrong dives down the left and reaches the line before diving into the box. Dykes prefers to head down McGinn instead of going for goal. McGinn fires another weak shot wide of the left.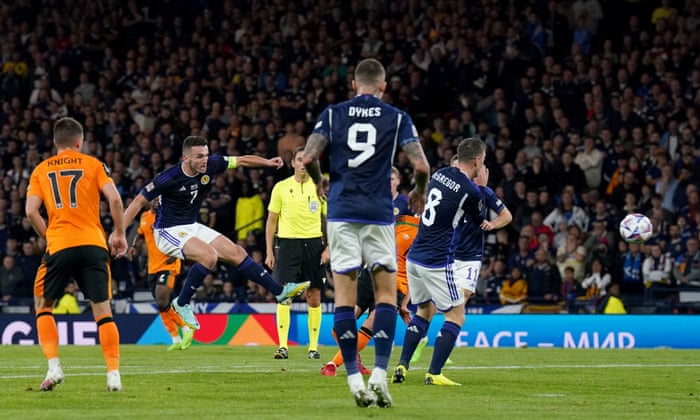 29 min: Scotland come again, Tierney releases Christie into space on the left. The resulting low cross is blocked by Egan. The hosts have picked up the pace, and things are starting to pick up for them now. However, Bazunu is not yet operational.
27 min: McGregor lands a right and sends Armstrong over the counter. Armstrong swings in a low cross. McGinn arrives late to meet him, but his first-time shot goes harmlessly wide of the left.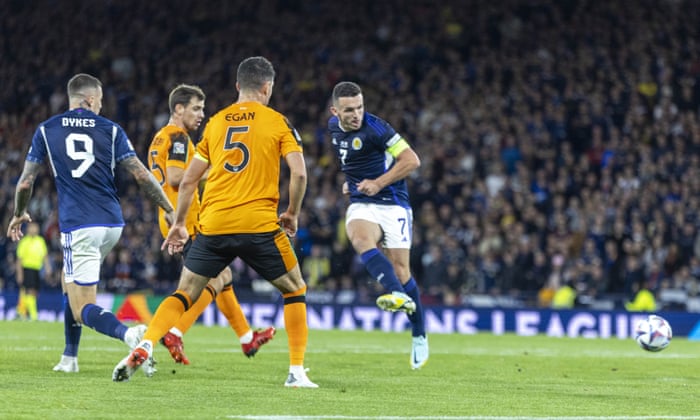 26 min: Christie owns 40 yards and runs into the Ireland box. He tries to find Armstrong in the inner-right channel with a warrant. Armstrong is too hot to control and flies in to score. But it is slightly better than Scotland.
24 min: Hampden has fallen very quiet. The housemates were disappointed with their expectations. There is still a long way to go, though Scotland will need to put something together to get Hampden burning again. They have produced so far.
22 min: Scotland try to clear their head by drawing a few passes. McTominay, McGinn and Christie saw a lot of the ball in midfield. But they don't really go anywhere. Scotland's Wednesday night has yet to be revealed.
20 minutes: Ireland caused Scotland to cause all sorts of trouble on the sets in Dublin, and they did it again. This dampened the atmosphere at Hampden, except in the away section of course. They give so many.
GOAL! Scotland 0-1 Republic of Ireland (Egan 18)
Scotland only half-cleared a corner, Dykes heading towards Molumby on the edge of the box. Molumby moves to the inside-left channel. Collins takes contact, the ball breaks to Egan, who fires a shot to the bottom left. Leader of Ireland!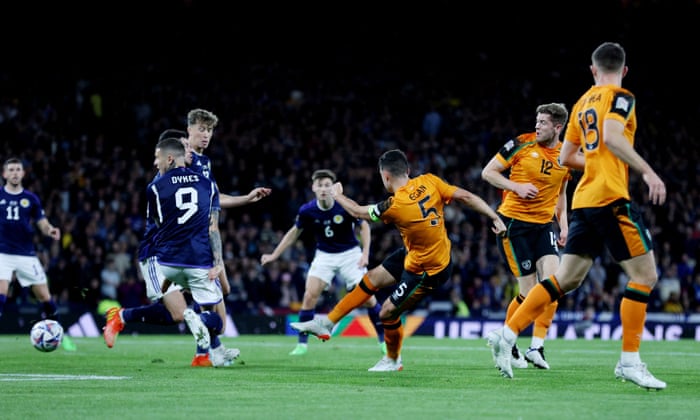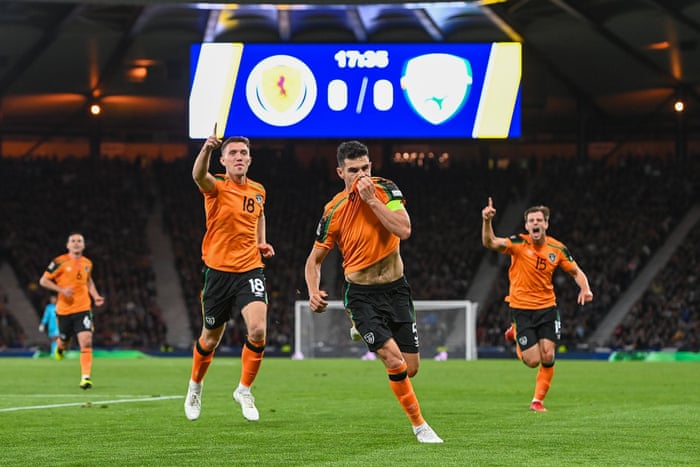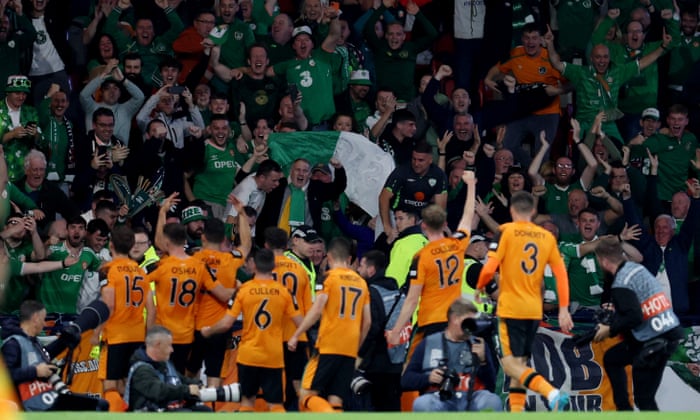 17 minutes: McTominay is stripped by Obafemi, and suddenly Ireland are up three to two! Obafemi Parrott into the Scotland box on the right. Parrott fires a shot, but it is well blocked by Hendry, who bravely clears for a corner.
15 minutes: McGinn takes Knight late. It's a wrong foot stuck at 50-50, nothing more, but it's the Scotland captain talking to the referee. Doherty then grabs Tierney on the chin with his arm. No malice there either, but Tierney felt it anyway.
13 minutes: Scotland settles down in the middle of the park with some sterile stuff. Some of Hampden's hearts were in their mouths for a moment there; you never know for sure until that flag comes out.
11 minutes: Parrott is released from the inside-left channel. He's miles away, but walks in, steps into the box, drops an arm to pin Hendry in the back, and lands a right uppercut. It's a fantastic finish, but the predictable, and very right, flag goes up. Still, that's where fans go.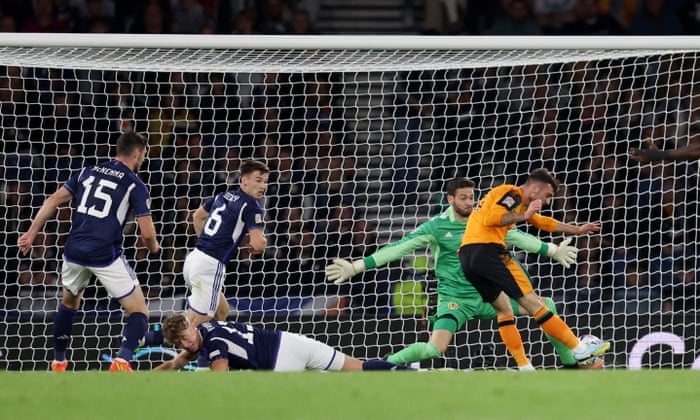 9 min: With England going down, treat the home fans to a tune from a popular Lightning Seeds hit of yesteryear.
8 min: Hickey plays a beautiful ball down the right wing for McTominay, who tightens up a one-two with Dykes and runs into the box. I don't know what he decided to do next. A bullet? A low cross? Either way, it's an easy dribbler for Bazunu. A lame end to a lovely sweet move.
6 min: The first shot of fury is taken by Christie, who advances in the inside-left channel before firing a speculative – and frankly poor – effort wide and harmless. Bazunu watches him calmly.
5 min: This game is played at a speed of 101 kilometers per hour. There is no exact shape yet.
4 min: Hickey tries to pass Armstrong on the right but oversteps his pass. Goal kick. A better ball could have opened Ireland.
2 min: Ireland see more of the ball in these very early exchanges. Scotland shows willingness to press.
Ireland have the ball. Obafemi and Parrott immediately take off, hoping to cool off the Scots. McTominay interrupts and stands on their palm. Visitors are clearly up for it!
Teams out! Scotland wears its dark blue, while Ireland goes orange. A fantastic atmosphere at Hampden. When the hymns were heartily sung, to the pantomime bird, etc.
Dora Stephen Kenny. "The thing about international football is between our last window, when we finished strong in Ukraine, it's 96 days. That's an important time. We're excited about the game. We're ready for it. Scotland set the standard and in Poland against Ukraine. We respect Scotland, who had a great win in midweek, but we want an equally lively performance. Technically the players can all handle the ball, I encourage that and I want that. But traditional Irish values ​​are also very important: passion, tenacity and the ability to work together and kick the ball back."
Steve Clarke speaks to Premier Sports. "We want to keep going. We want to play well. We want to win the game. We want to go to Ukraine with the best chance to qualify, which means we have to give a positive performance tonight. I'm only playing with one striker. so now I'm in a lucky position where I can rotate them a bit. I can use them for all the games as I see the situation. We all know what happened in the summer and we want to play better and have a positive result ."
There are four Scotland players who are one booking away from suspension. Scott McTominay, Callum McGregor, Ryan Christie and Ché Adams will all miss the Ukraine game if they are shown a yellow card this evening.
The Republic of Ireland also has four players on the disciplinary chain. Josh Cullen, Callum Robinson, Jeff Hendrick and Alan Browne need to be on their best behavior or they will miss the visit of Armenia in Dublin next week.
Scotland made two changes to the starting XI named against Ukraine earlier this week. Lyndon Dykes replaces Ché Adams up front, while Aaron Hickey replaces the injured Nathan Patterson.
The Republic of Ireland made four changes to the team that drew 1-1 with Ukraine in June. Gavin Bazunu, John Egan, Matt Doherty and Michael Obafemi replace Caoimhin Kelleher., Darragh Lenihan, Alan Browne and Scott Hogan.
Scotland: Gordon, Hickey, Hendry, McKenna, Tierney, McTominay, McGregor, Armstrong, McGinn, Christie, Dykes.
Subs: Kelly, McCrorie, Gallagher, Taylor, Porteous, Adams, Gilmour, Ralston, Doig, Fraser, Jack, McLean.
Republic of Ireland: Bazunu, Doherty, Collins, Egan, Cullen, O'Shea, Knight, Molumby, McClean, Obafemi, Parrott.
Subs: Travers, O'Leary, Coleman, Duffy, Robinson, Hourihane, Hendrick, Browne, Hogan, Ogbene, Brady, O'Dowda.
Advisor: Sandro Schärer (Switzerland).
Last Wednesday, Scotland did…
… and suddenly, winning Group B1 isn't such a dream. A draw against the Republic of Ireland tonight would take them back to the top of the group – Ukraine won 5-0 in Armenia earlier this afternoon – and another point against the Ukrainians in neutral Poland on Tuesday would seal the deal. But the Republic has its own problems, they are still not sure of relegation. A win at Hampden tonight will secure their status in the second tier and visit Armenia on Tuesday. Given how well Scotland played during the week, and the secretive Ireland 3-0 back in June, anything is possible tonight. It may be broken. Kick-off is at 19:45 BST. It's over!