major events
Half-time advertising. Sign up now! Sign up now! Sign up now? Sign up now!
HALF TIME: Scotland 0-0 Ukraine
All square in between, although Ukraine should be up to ten men.
45 min +2: After a few minutes, Adams returns and runs. Nothing beats the resulting free kick. Scotland are furious, with Steve Clarke benefiting from his advice to the fourth official.
45 minutes: Adams steals the ball from Matviyenko in the middle of the park and beats Bondar. As he begins to fully pursue her, he is brutally body controlled, his arm and shoulder under the arm, with great force by Bondar. It's just a yellow, which is ridiculous, even though the keeper wasn't the last man. He was incredibly cynical, and very aggressive to boot. It should have been red.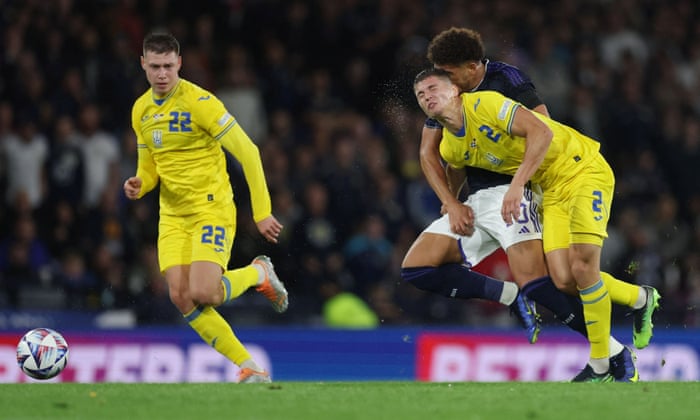 44 min: Armstrong, Adams and Christie make their way to the side of the Ukrainian box. The visitors do not need to defend the situation, because the hosts, being very close together, effectively cover themselves.
43 min: McTominay, just to the right of the D, fires a diagonal pass into the path of Christie, into the box in the inside-left channel. Christie lets the ball roll under his foot, and another good move from Scotland fails in the third.
41 min: Scotland are pushing Ukraine back without seriously threatening a goal. Some nice possessions, but when Adams turns and shoots on his half chance, he fails to check and the chance goes begging.
39 min: Mudryk fires in a low cross from a tight spot on the left. Gordon uses both punches to clear in no-nonsense fashion. It may be Ukraine's first shot on target, or at least almost on target.
38 min: McTominay throws McGinn into the box, just to the right of Ukraine's D. He tries a Le Tissieresque flick, turns and volleys, but the ex-Southampton man makes it look easier than it looks. Goal kick.
37 min: More patient passes. A time of ownership for the poor.
35 minutes: Scotland ping it around mid-off in sick fashion.
33 min: Nice touch on the touchline as Ukraine coach Oleksandr Petrakov rushes over to wish Patterson the best as he finally disappears down the tunnel.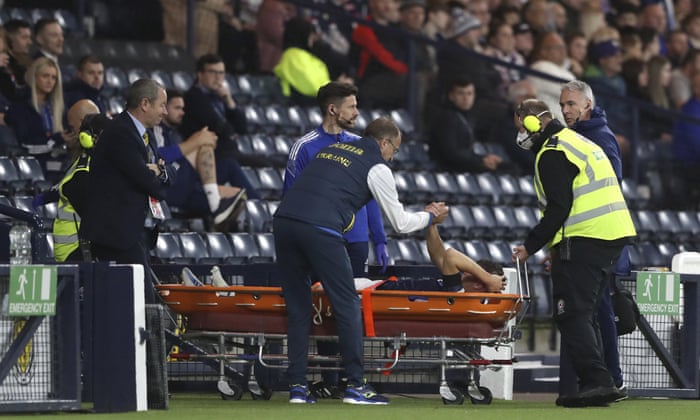 31 min: Malinovskyi hits the free kick straight into the wall.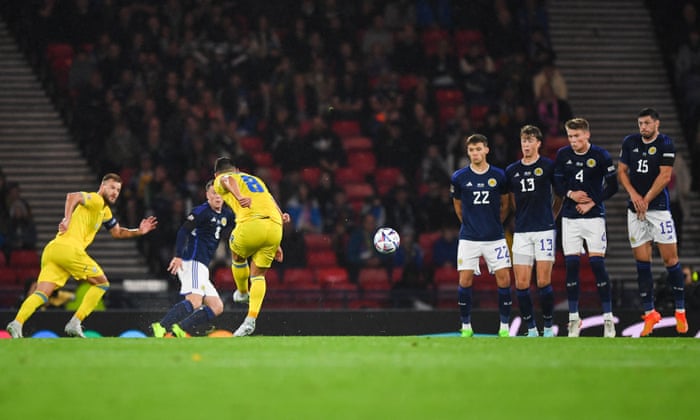 30 minutes: Scotland had their tails up before Patterson's injury, and they are now somewhat underdogs as a result. Mudryk took advantage of the lack of energy by turning the jets and slapping Hendry, 25 yards. Free kick in a dangerous position.
28 min: As the game resumes, Hampden finds Patterson with applause and best wishes. Scotland will miss him. If the injury is serious, so will Everton. Hopefully it's not as bad as it seems and the carrier is a precaution; He initially stepped off the field under his own steam. God speed up guys.
26 min: Patterson makes way for Hickey and is loaded onto a stretcher. He seems to have tripped badly after meeting Malinovskyi by chance.
24 min: Patterson has suffered a concussion and it doesn't look like he will be able to continue. He looks more than scrappy, which is no surprise given his impressive early game.
22 min: McGregor takes possession 30 yards out and blasts Christie, who can't control the edge of the D. The ball fires to Armstrong, who drives low on the right from a tight angle. Trubin parries. Christie can't control the rebound and the chance – a huge one, with the keeper locked up – is missed.
20 minutes: Tierney again swings long from the left. Armstrong returns to the other side once again. He pulls in a cross for Christie, who beats keeper Trubin to the ball, but can't get his head on target. Goal kick. Scotland creates chances.
18 min: It's raining and the turf is gray now. Stepanenko snaps hysterically at her and clears McGinn. First booking of the evening.
17 minutes: Tierney crosses deep on the left. Armstrong gathers at the other end and pulls back for Patterson, who swings through the middle. McGinn flies a left header wide. More decent football from the hosts.
16 min: Nothing comes of the corner, but it's a promising period of play for Scotland.
15 minutes: McTominay and Armstrong move tightly through the middle, the latter passing for Patterson in the inside-right channel. The full-back hesitates before shooting, and Mudryk, who tracks back, goes out for a corner. If Patterson was tighter there than he thought, he would have definitely tested Trubin from 12 yards or so.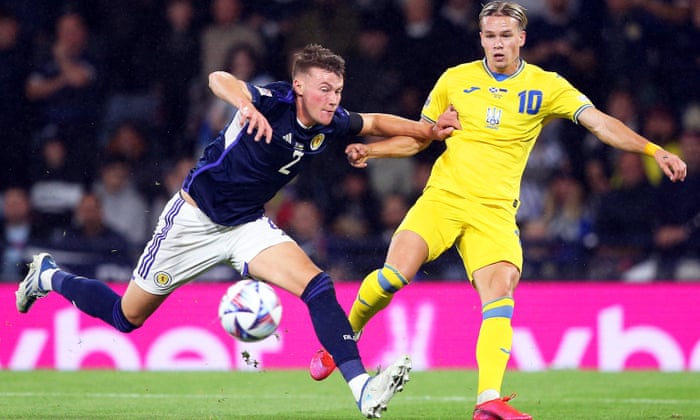 13 minutes: Armstrong swings the ball in from the right. Adams stands strong to fire a header wide to the left for Christie, who creates a sensational low return into the Ukrainian box. Adams cannot cross from six yards. If he made any kind of connection, that was definitely the initial target. Great move, and lovely cross.
11 minutes: Adams breaks in from the left, sent clear by Tierney's pass on the touchline. Adams drops his arm to skate past Bondar into the box, but his weak leg is easy for Trubin. He should have done better. The flag goes up for offside, but again, if the ball ends up in the net, VAR could have overturned a boundary decision.
10 minutes: Ukraine is now dominant. Many patients pass through the middle of the park. Mykhaylichenko finally whips a low left. There is no one in yellow in the box.
8 min: Ukraine has two players, one of whom is away from suspension: Mykola Matviyenko and captain Andriy Yarmolenko. They will miss the trip to Armenia on Saturday.
6 min: Christie and McGinn move around with intent to the left. The latter finally sends a weak cross into the box, and it's an easy goal for Trubin in the Ukrainian goal. Both sides are fine with this.
5 min: More space for Mudryk on the lower left of Ukraine. He can't find anyone in the middle, but the ball bounces around the Scots box for a while. it could be a long night for Patterson, Armstrong and McTominay on this side.
4 min: Scotland is responding well. Patterson starts the inside-right channel. McGinn swings and nearly sends Adams into space. Not exactly, but that crowd, unhappy with Ukraine's promising start, is going again.
3 min: A long pass sends Dovbyk free in the middle. The flag eventually goes up for offside, but if he had picked up the net, VAR might have had something to say about that decision. It seemed very close. A quick start by Ukraine.
2 min: The dangerous Mudryk almost clears the left. He will have to turn the corner in time, by McTominay, but already the young winger has shown his intentions.
Scotland begins. Four Scottish players are one away from suspension. If Scott McTominay, Callum McGregor, Che Adams or Ryan Christie pick up a yellow, they will miss the game against the Republic of Ireland on Saturday.
Before the start, a minute's applause in memory of Queen Elizabeth II. warm applause, but also a lot of boos burning under everything. Each for himself, no one is obliged. The body of silence is probably the best idea the SFA has had in a while, mind.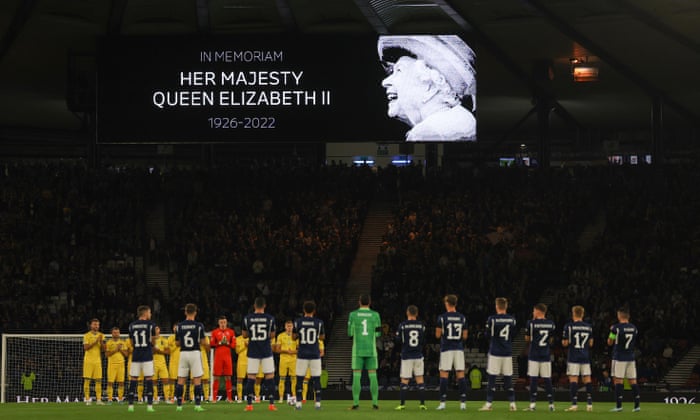 Teams out! Amazing atmosphere at Hampden. Scotland wears their dark blue, while Ukraine is first in their yellow favourite. Every Ukrainian is draped in their national flag when they take the field. Beautiful renditions of both songs. The flower of Scotland belted with emotion, of course, but Шче не вмерла України і слава, і воля is also received with respect and warmth. Ukraine's honor and freedom have not been lost yet. We'll be leaving in a minute.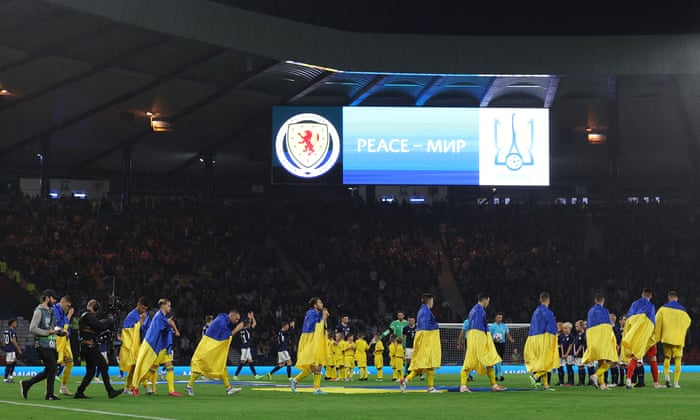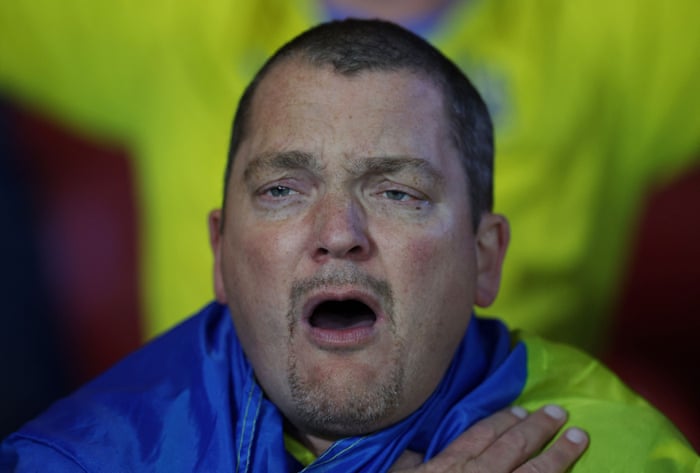 Steve Clarke talks to Premier Sports. "It's always nice to play here, especially when you've got a full house. We've had some great nights here. It's obviously a disappointment in the summer, but tonight is about fixing it. We have to take care of that. We had a good World Cup campaign. The disappointment was not finishing in the play-offs and reaching the World Cup. What we want to do now is to get back to what we were good at: an energetic team that took chances. creates and excites the crowd. Both teams are a little different from the summer, but I'm sure it will be a good match. We have to be much better to get a result."
Scotland manager Steve Clarke makes three changes to the starting XI he named for the 4-1 win in Armenia in June. Kieran Tierney, Scott McKenna and Ryan Christie; they replace Grant Hanley, Greg Taylor and Billy Gilmour.
No Oleksandr Zinchenko for Ukraine. The Arsenal and former Manchester City manager is out with a calf problem. Mykhailo Mudryk, who scored for Shakhtar Donetsk against Celtic in the Champions League last week, will patrol the left flank.
Scotland: Gordon, Patterson, McTominay, Hendry, McKenna, Tierney, Armstrong, McGinn, McGregor, Christie, Adams.
Subs: Kelly, McCrorie, Taylor, Porteous, Dykes, Gilmour, Ralston, Fraser, Jack, Hickey, McLean.
Ukraine: Trubin, Karavaev, Matviyenko, Bondar, Mykhaylichenko, Stepanenko, Yarmolenko, Pikhalonok, Malinovskyi, Mudryk, Dovbyk.
Names: Lunin, Riznyk, Kryvtsov, Sydorchuk, Yaremchuk, Kacharaba, Ihnatenko, Tsygankov, Mykolenko, Tymchyk, Zubkov.
Advisor: Maurizio Mariani (Italy).
The last time these two countries met, three months and three weeks ago, this happened…
… after Scotland kicked off their Nations League Group B1 campaign with a 3-0 home and away win over Republic of Ireland in Dublin. Steve Clarke's side really need another win against Ukraine tonight if they are to keep their hopes of winning the group, with a visit to Ireland and a trip to face the Ukrainians on neutral soil to come in this international break. Kick-off at Hampden is 19:45 BST. It's over!