"ONEwhen it gets into your head, you have to block it," says Isaac Chamberlain as he shakes off a dark and haunting thought about what failure might mean for himself or Chris Billam-Smith when they're in the running for a Commonwealth Cruiserweight title. and Europeans meet in Birmingham on Saturday night. It is one of the most exciting British matches of the year as Chamberlain travels to the city of the champions for a dangerous and dangerous contest.
We sat on Chamberlain's bed in the house he rented for his junior team in Birmingham. It feels a long way from Brixton, where he grew up amid poverty and strife, drugs and knife crime, but Birmingham has been Chamberlain's camp site for six weeks. He is 28 years old, the father of an adorable son and probably the most thoughtful and generous boxer I know. Chamberlain also writes, verbalizing his doubts and fears as he ponders life deeply.
Having become a father, and feeling so much happier and calmer, he didn't need to express his pain, as he had done before in his passionate bursts of writing. Now, approaching his 16th fight, Chamberlain knows a win over Billam-Smith could earn him the world title shot he's been dreaming of for years.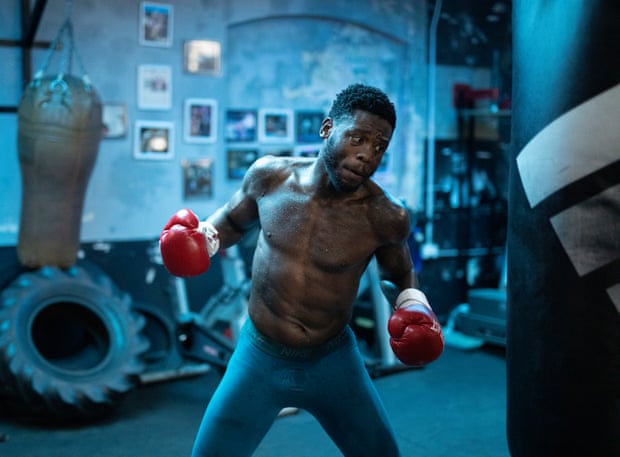 They have lost just one fight each and, while Billam-Smith has been the more active boxer in recent years, this is the biggest opportunity of Chamberlain's career as he and Lawrence Okolie square off at London's O2 Arena in 2018. title Chamberlain has been out of action for a long time, but now he has another chance to reach the world championship level.
His training has been tough and Chamberlain is missing his eight-month-old son, Zion, who he won't see until after this weekend's fight when he returns to south London. "I know what I've sacrificed," he says as he leans against the wall. "I don't do all of this thinking, 'Oh, I might lose.'
I've known Chamberlain for a long time and his powerful story continues to peel away the layers of everything he's been through. We had time to go further today and Chamberlain suddenly sounds angry. "It's going to be a cold day in hell before I let him beat me," he tells Billam-Smith, who is as friendly and respectful as Chamberlain usually is outside the ring. "She also sacrificed a lot – but I sacrificed more. Eventually people will see the real me and say: 'This man is definitely a diamond.'
Chamberlain was born into poverty in Brixton. "My real dad left us when I was four and I remember clearly how he and my mom told me to go to my room where I had a little PlayStation. I raised my voice because in the other room I hear: 'Boom! Boom! Boom!' They sparred and my mom was mostly winning. She had fast hands, so I probably get my boxing and aggression from her."
Was he scared? Chamberlain shakes his head. "When you grow up everything is cartoon. In that environment you think it's normal. Sometimes there was no food, so you think: 'Okay, sleep for dinner.' Your stomach wakes you up because it rumbles a lot but you get used to it."
That deprivation was part of the reason why, at the age of 12, Chamberlain became a drug lord who would deliver cocaine, crack and heroin on his bicycle in Brixton. "I always heard my mother on the phone: 'I have no money.' It stresses you out when you're young, so I reached out to an adult [dealers] and said: 'Yo, put me on the shit.' He said: 'Are you sure? Ok cool.' That's how it started."
Did the dealers look awesome? "I would. They all had cars, clothes, money and the girls loved them. So you think: 'I want to be like that. I want to be the man with the money and the chicks.' You know them from the area, but they'll chill on the street like they own it."
Was he nervous before his first job? Chamberlain laughs. "Shit, no. I've had some crazy coaches with tongues hanging out. I couldn't wait to get my hands on some Air Max white or white Air Force trainers. But I didn't understand that they were robbing me, not giving me my share, because for those guys I was just a child. Some of them were getting 500 pounds but I was getting less. But it was better than stealing from pick and mix at Woolworths.
"I only really realized the dangers when I had to carry a bag of coke. I was on the bus and I put my bag down my pants. But when I got off the police stopped and searched everyone. I froze. The man I met I said: 'Just walk this way.' But then I heard the police coming. He shouted: 'Stop there!'
Chamberlain's face contorts in the fear he felt 14 years ago. "Oh god! I was faster than Usain Bolt when I ran a long course between Brixton and Kennington. Even if they stopped following me, I didn't stop running until I dropped my bag at my friend's house and said: 'I'm not doing this anymore.' He said: 'Come on, man, we'll do it together.' I refused and went home and took a shower immediately. I had a lot of roots on my leg and I knew I had to get out of that life.
"If I was arrested, I would 100 percent go to prison. I was just a kid but these were class A drugs. So when those people were talking to me I took out the sim card from my phone and broke it. They could not arrest me then. If I hadn't done that it would have been worse in jail and prison and that's where you find more connections to do bad things or you make enemies. This is a vicious cycle."
His cousin was killed in a Brixton and Kennington "meat" between rival gangs and young Isaac carried a knife for protection. "You never know who might be after you, brother. But my father saw the knife and threw it in the trash. He said: "It will never come home."
The murder of his cousin, Chamberlain's mother, who brought him in when he was 17, led him to Miguel's boxing gym in Brixton. Boxing offered him a safe place from drug addicts and gangs. "I fell in love with boxing," says Chamberlain. "I saw two 50-year-old guys dating and I thought: "These guys sleep together and don't get into trouble. This is crazy!' I took the towels and smelled them. The walls of the gym were sweaty, the mirror was wet and the first time I hit it, I saw a flash of white – pow! He didn't stop beating the boy because of my fear. I said: 'Dude, this is crazy. And people want to do this?'
Rock Chamberlain laughed. "Look at me now."
The first day he entered the gym he met the man who helped change his life. "I have to give so much credit to Delroy Lewis, the doorman at Miguel's, because he saw something in me that no one else saw. When I finished school, he would come and pick me up, take me to the gym, because I I never really had a childhood. People used to say to him: 'Oh, Isaac will be nothing, why bother him?' But Delroy saw me as his little project and he'd pick me up at 5am in Camberwell.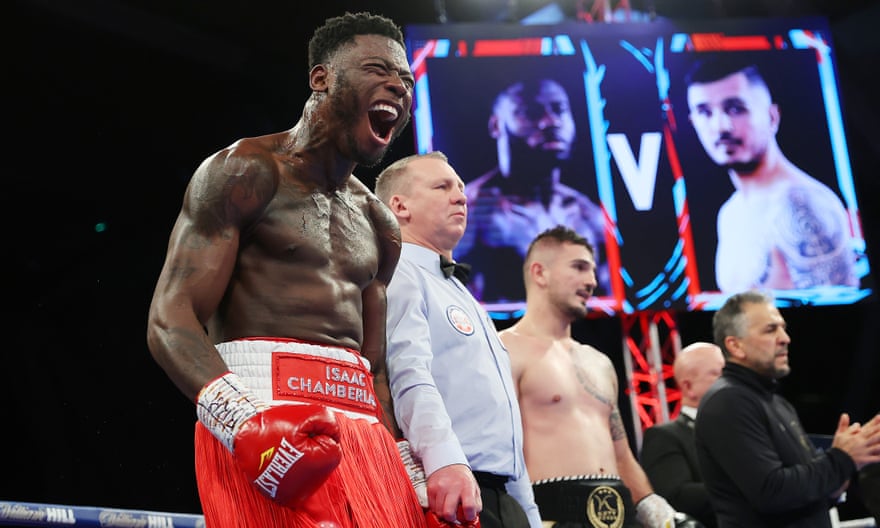 "He also hired me to work in the salon. I washed the bell, cleaned the windows and mirrors and he paid me £5. I'd have pizza, brown bread, some crisps, Lucozade and if I had the money, a Chunky KitKat It got me going in the morning because I was going to have something to eat before my free school dinner. Delroy helped a lot.
"He told me: 'Isaac, you have a tough road ahead of you but you can be one of the best. You can be very special.' No one has ever said that to me before. No one has ever complimented me. But when I try to give him some money now as a thank you, he says, 'Oh no.' He's a real Jamaican guy and he's been in the army so he doesn't like to show emotion. But I see when I say, 'You're my dad, you're right.'
Chamberlain still picks up Delroy in Brixton so he can take the old porter for a drive or introduce him to his son. Boxer likes to compare the life he had as a child to the much warmer and happier world in which he will raise Zion. It's interesting to remember Chamberlain never being taken to the zoo or on vacation as a child – and how he would make sure his son enjoyed all that he was deprived of.
Boxing gives him this opportunity. "It changed everything – from my life to my son's life."
Chamberlain shows me a video of his young son reaching for the screen as the boxer talks on the phone to his girlfriend, Zaila, whom he started dating eight years ago. He gushes about the joy on Zion's face and then, as the reality of Saturday's fight dawns on us again, he says: "My life is the happiest it's ever been but at the same time it makes me think that, in the ring , i have. to get worse, worse and just darker. It may sound crazy but when you are facing such a difficult and important battle that can change your family forever, you have to think like that.