major events
1.5 km to go: There is a large right-hander when pulling the road. A few riders dismount … and a small select group forms at the front.
3 km to go: Audrey Cordon-Ragot (Trek–Segafredo) has made a big round of the leaders … and that's it. The catch is made with 3km to go…but Berteau, ever the fighter, has one last effort to stay away! What a spirit He finally admits defeat with 2.5 km to go…
4 km to go: Balsamo, Wiebes and Vos are all right at the front of the peloton and will all be eyeing the stage win. The distance reaches 11 seconds.
5 km to go: The gap is up to 20 seconds … the smart money should be on the peloton now.
6 km to go: Jumbo-Visma clearly raises the effort levels at the front of the peloton. Vos returns three of the four wheels.
Next, Berteau comes to do it again.
7 km to go: Field Art Tour!
The difference is up to 40 seconds! Two escapes have a real chance here!
9.5 km to go: Jumbo-Visma, FDJ and Liv Racing Xstra are among the teams working on the front to take it. You have to think that without that big crash earlier, the breakaway would be over by now, but as it stands, the two riders in front have a chance to take this one to the end…
10 km to go: Berteau and Christoforou continue to fight at the front. The interval is 36 seconds. Meanwhile, Berteau has been awarded the most aggressive rider for today, so he will be in the red bib numbers tomorrow.
17 km to go: With four hours of racing on the clock, the gap is 39 seconds.
Berteau and Christoforou are ahead.
20 km to go: Berteau, who won both QOMs, now holds a bonus five seconds on the Côte du Haut du Bois.
20.5 km to go: The breakaway group has split in two: Victoire Berteau (Cofidis) and Antri Christoforou (Manpower Health) are now alone in the lead.
22 km to go: Marta Lach (Ceratizit–WNT Pro Cycling) is pictured riding with a large grass on her left side and her torn kit. He is the only one in the peloton nursing a few bumps and bruises after that big crash.
The Jumbo-Visma are now more prominent in the foreground, clustered around Marianne Vos' yellow shirt. The gap between the breakaway and the peloton reaches 29 seconds – obviously the peloton is trying to get this back so the GC riders can fight for the bonus seconds…
24 km to go: The four riders at the front cooperate well, and the gap remains at one minute. Trek-Segafredo and Le Col-Wahoo are both doing a lot of work at the front of the pack as they try to catch up.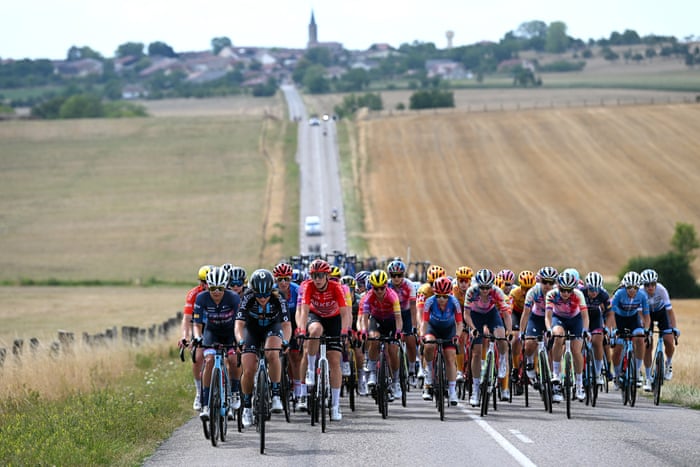 28 km to go: And now the yo-yo gap is back under a minute once again.
30 km to go: Is there an opportunity to book? Their lead is 1min 18sec, and there are some sore bodies in the peloton following that big crash. Côte du Haut du Bois is close to us. Or, them.
(Just a reminder, it's not a category jump but there are bonus seconds.)
35 km to go: Kopecky managed to get back to the peloton along with other riders in that group. The interval advantage is now down to 1 min.
36 km to go: Bonus seconds will be available on the Côte du Haut du Bois, which rises within 16 km or so.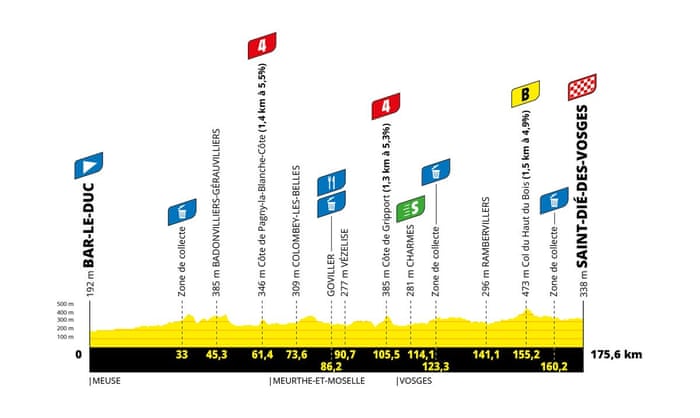 39 km to go: Barbara Malcotti (Manpower Health) was terminated for 'irregular maintenance'.
Norsgaard actually quit the race, and was taken away in an ambulance. Slappendel reports that it was in his neck, which is hopefully just a precaution. All the best to Emma Norsgaard for a speedy recovery.
41 km to go: The advantage of the escape group is 1 min 42 sec. Three minutes behind them, a group including Lotte Kopecky (SD Worx) is fighting back.
44 km to go: It seems that Emma Norsgaard (Team Movistar) may have broken something, and has to stop the race. He is injured in his left arm and is being treated by doctors.
45 km left: Oh no – a big pile in the peloton. Countless bodies and carbon bikes seemed to pile up in the middle of the world after someone got knocked down in the middle of the pack. Most of them are already up and competing again.
"I will celebrate and continue to make a differencebut there is a long way to go."
Suze Clemitson talks to ex-professional rider Kathryn Bertine about the long (and ongoing) road to equality in women's cycling:
51 km to go: Slowly but surely the gap is coming down. Now it is down to 1 min 48 sec. The breakaway is strengthening and they are working together, but there is only so much they can do against the increased effort of the peloton behind them.
Vos said he expects to lose the yellow jersey in the mountains, but he and Jumbo-Visma have every chance of winning another stage today. The morning stage is preceded by two suitable mountain stages on Saturday and Sunday.
55 km to go: Still 2mins 13secs to the interval.
56 km to go: So Wiebes managed to score two more points than Vos in that sprint, but Vos still holds a healthy 56-point lead at the top of the sprint category.
57 km to go: Top 10 in Charmes in the sprint:
1) At least 25 points
2) Berteau 20 pts
3) Newsom 17 points
4) Christoforou 15pt
5) Wiebes 13 points
6) Voice 11 points
7) Kopecky 10 points
8) Confaloneri 9pt
9) Georgi 8 pt
10) Bujak 7 points
60 km to go: At the sprint point in Charmes, Louw pulls away from his fellow runners to take maximum points, with Berteau second.
Wiebes pipped Vos for fifth place in the sprint – although after the initial rush, it looked like Vos was happy enough to let his rival take it.
61 km to go: A clip of the breakaway riding the QOM point a few minutes ago:
63 km to go: The top five standings in the points classification are:
1) Voice 186 points
2) Wiebes 128 pt
3) Kopecky 128 pt
4) Persico 72pt
5) Confalonieri 63pt
66 km to go: Understandably, after all the work they've put in, the power seems to be slightly reduced from the front four: the gap is down to 2 minutes and 29 seconds. However, they are less than five kilometers from the sprint's midpoint at Charmes, so they will surely take the lion's share of the points there.
70 km to go: Berteau leads the break through the QOM point at Côte de Gripport. Christoforou is second. It was the same as the first QOM order of the day, in Côte de Pagny-la-Blanche-Côte. Berteau now has a total of four QOM points, level with Reusser and Chabbey, but behind Gerritse (8pts), Demay (5pts) and Asencio (5pts).
72 km to go: Just a reminder that the four separate riders are:
Emily Newsom (EF Education-Tibco-SVB)
Anya Louw (AG Insurance-NXTG)
Victoire Berteau (Cofidis)
Antri Christoforou (Manpower Health)
Berteau takes a big turn at the front, then drops back to the back of the group for a breather and something to eat. Out of the four riders ahead, he is the highest placed 77th in the GC. But that's a total of 19 minutes and 27 seconds short, and therefore not a concern for any of the GC teams.
74 km to go: The top five GC finishers before today were:
1) Audio 11 hours 48 minutes 46 seconds
2) Persico +16 secs
3) Niewiadoma +16sec
4) Longo Borghini +21 secs
5) Moolman-Pasio +51sec
Live pictures go 80km away. The interval is 2 minutes 58 seconds. It seems the riders back in the group have been instructed to make sure this gap doesn't turn into anything irregular, and the pace is very hot.
The peerless Marianne Vos.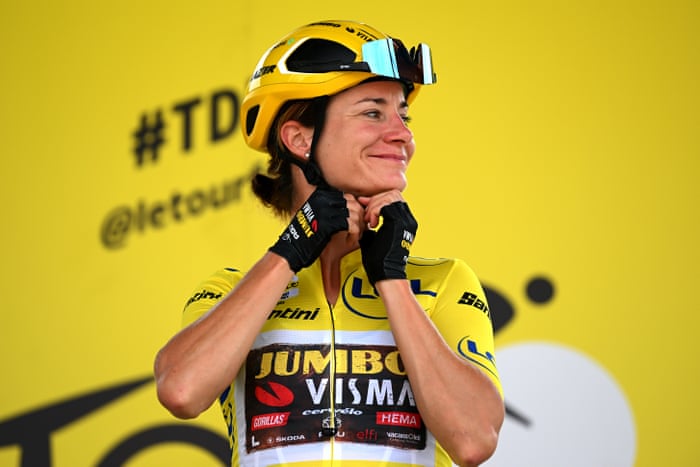 The difference between a break and a peloton has dropped to 3'05" with a fastest pace in the group.
Don't forgetyou can email or tweet me @LukeMcLaughlin with no thoughts on race.
Iris Slappendelon the famous Eurosport motorcycle, brings us up to speed: "We had a really angry start until the gap built up. We split from four, they were working really well together … it was a bit calm. Really it's a nice day, a rolling course, a lot of head and wind to the left but not too hard … but at the same time there is no Dutch in the break, so it's a bit disappointing for me … More and more every day and at the beginning more people, I couldn't believe how many fans were there this morning, so that's really cool.
ICYMIAs we say on the internet, this is yesterday's episode report:
The next important step on today's trip is a category four climb, Côte de Gripport. The break is now 20 km from the summit of that climb, which is 1.3 km long and has an average grade of 5.3%.
Soon after that, there's an intermediate sprint at Charmes, with 61.6km remaining on the track, and then a bonus point at Côte du Haut du Bois with 20.4km remaining.
No live photos from Eurosport yet…
Yesterday's fourth stage led to a renewal of the debate about whether there is a place for gravel (or gravel) sections in multi-stage road races. Regardless of the finer points of that debate, Marlen Reusser broke away from the peloton to win the stage solo, before the Tour de France Femmes riders began scaling the longest stage of this year's race – today's 175.6km journey from Bar-le – Duke of Saint-Die-des-Vosges.
We're a few hours into today's marathon stage – Emily Newsom (EF Education-Tibco-SVB) and Anya Louw (AG Insurance-NXTG) were the early attackers, before Victoire Berteau (Cofidis) and Antri Christoforou (Man) took the lead. . Powered Health) to form a four-rider breakaway that now has a 3 minute 26 second advantage over the chasing peloton.
It was always a stage that looked good for a break-up – will we see this one go all the way? Or will fast women such as Marianne Vos, the overall race leader, have another chance to fight for the stage win in Saint-Die-des-Vosges? Let's see…