Main events:
13th over: South Africa 72-1 (Malan 34, van der Dussen 16) Narrower from Carse, just three to go, and it's a drink, with SA eyeing the full that England likes. For obvious reasons, there will be extra drinks today.
12th over: South Africa 69-1 (Malan 32, van der Dussen 11) Rassie van der Dussen is playing himself in it, but he's having the holidays for breakfast and he's now ripping into Moeen, a reverse sweep for four, which is as clear as a piece of toast.
11th over: South Africa 59-1 (Malan 30, van der Dussen 7) Here's Brydon Carse, a paradox of a bowler: he's big, fast, honest, honest and just has what it takes to show him off in international cricket. His first time here is five consecutive passes.
10th over: South Africa 54-1 (Malan 28, van der Dussen 2) Both sides have a couple of spinners and on a hot day Buttler is keen to give one of his own early. The lighter version is that it is Moeen Ali, who is struggling to take ODI wickets these days. Plus, he doesn't have a left-back to bowl with de Kock gone. But Mo starts well, conceding just three and finding some turnovers. PowerPlay ends with SA on points, only.
"Hi, Tim." Smilers! "I'm not sure Matthew Potts will be part of the limited-overs team, at least not when Matthew Mott is leading them: my brain can't seem to talk about them both in the same match and remember which is which. ."
9th over: South Africa 51-1 (Malan 27, van der Dussen 2) Sam Curran is also burning his copybook, admitting his second four as a sweeper is likely to be a soft long hop. Anyone called Malan who grew up in South Africa knows how to draw.
8th over: South Africa 42-1 (Malan 20, van der Dussen 0) Buttler is showing more confidence in Potts, but it's just not his day. As the middle of this is good, it starts wide and the fifth ball is a perfect gift, looked by Malan for four. Potts has 4-0-33-0, and Buttler has a problem too, as his other right-arm specialist – Brydon Carse – has been anodyne of late. The stage has already been set for some heroics from Ben Stokes.
7th over: South Africa 35-1 (Malan 14, van der Dussen 0) Curran van der Dussen is also quiet, and she is a wicket girl. So far Curran has a very good impression of Topley: 4-1-9-1.
WICKET! de Kock b Curran 19 (SA 35-1)
Success! Curran still silences Kock and then surgically cuts him off with a cleaver that cuts the ankle. England needed it.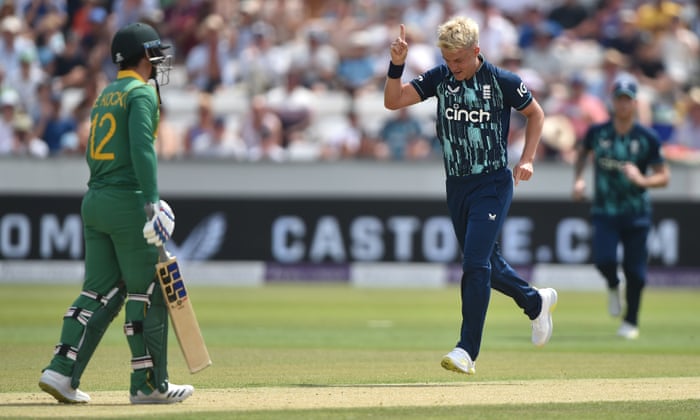 6th over: South Africa 35-0 (Malan 14, de Kock 19) Jos Buttler, like Ben Stokes, believes in showing his faith in his players. Few other captains would have dropped Jason Roy by now, with Phil Salt in a much better position. And when many captains would remove Potts, Buttler leaves him. His confidence doesn't pay off immediately as Potts goes for seven and delivers another cheap boundary to Kock, who is bowled at long on. Potts has gone four, Curran just one.
5th over: South Africa 28-0 (Malan 14, de Kock 12) Curran gets closer and closer to it. He concedes just one, for de Kock, and knocks Malan on the outside edge for a change. Curran just for nine runs from three overs, Potts for 19 from two.
We have an email! "Introduction – Perspectives on what's happening in England," said the subject line from John Starbuck. "For those interested," he continues, "you can now watch Haseeb Hameed and Ben Duckett battle together for Notts against the Derbys, on Livestream." Don't send the pukers, John! But it looks like a nice study in contrasts.
4th over: South Africa 27-0 (Malan 14, de Kock 11) Just when he seemed to have gotten over his early nerves, Potts has a shocker. He bowls two friendly length balls to Malan, both driven for four, one past cover, the other straight. And then he follows it wide. When you play a different ball, as Joe Root and Jonny Bairstow showed last week, it's suddenly a different ball game.
3rd over: South Africa 16-0 (Malan 5, de Kock 10) Sam Curran ties Kock well for four balls, then spoils it by giving away a free – a wide half-volley, neatly dispatched to the cover boundary. Kumar Sangakkara points out that the offside ring is not in the right place: "They should be triangles".
2nd over: South Africa 12-0 (Malan 5, de Kock 6) Here's Matthew Potts, kicking the ball in front of his Durham teammate Brydon Carse. Another Durham man, Mark Wood, admitted he was more nervous than he was when bowling in the World Cup final. "Maybe I drove my wife crazy and gave my speech 386 times." Wood is a natural commentator. And Potts is a bowler by nature, but he's struggling a bit now, giving de Kock a simple box for four, then a broadside, before recovering well.
First over: South Africa 4-0 (Malan 3, de Kock 1) Reece Topley's role as the new striker goes to Sam Curran, another left-hander, albeit nine inches shorter and peroxide-blonde. He finds some swing and hits Janneman Malan on the inside edge. Malan comes back through the covers with a confident shot that gives Ben Stokes something to do – he saves a four but can't prevent a three. Quinton de Kock plays and runs and would have bowled his partner over if Liam Livingstone hit it over the middle of the neck.
The players are there, and so is the blazing Durham sun. The estimate is for 36 degrees. As Mark Wood said, "this is the first time I've heard Chester-le-Street referred to as a dry farm".
Not Bavuma, and not Kagiso Rabada. But there should be plenty of runs in this team, with Quinton de Kock and Rassie van der Dussen ranked fifth and sixth in the ODI world, above their opponents. England's highest ranked Bairstow is number 8.
South Africa 1 Quinton de Kock (wkt), 2 Janneman Malan, 3 Rassie van der Dussen, 4 Aiden Markram, 5 Heinrich Klaasen, 6 David Miller, 7 Andile Phehlukwayo, 8 Keshav Maharaj (cap), 9 Anrich Nortje, 10 Lungi Ngidi, 11 Tabriz Shamsi.
Team: Welcome to England Rashid
England's fantastic five take their final outing together. Can they do better than what they did against India, when they were tied for five? Reece Topley is rested, and the spin attack looks anodyne unless Potts starts as strongly as he should in the Test team. But Buttler will be happy to have Adil Rashid back, even if his talent has largely migrated to T20s.
England 1 Jason Roy, 2 Jonny Bairstow, 3 Joe Root, 4 Ben Stokes, 5 Jos Buttler (capt, wkt), 6 Moeen Ali, 7 Liam Livingstone, 8 Sam Curran, 9 Adil Rashid, 10 Brydon Carse, 11 Matthew Potts.
Keshav Maharaj calls heads, and heads he is. "It seems a little harsh," he says. Jos Buttler, always straightforward, admits he would have batted too. "Hot day." He can say it again.
Early team news: a start for Potts
Matthew Potts, an instant high-ranking player in the Test side, will make his ODI debut.
Introduction: here we go again
Afternoon everyone and welcome…another bloody series! Less than 48 hours have passed since the last one and here we go again. Is it possible to have too much of a good thing? Discuss with reference to upper-class fitness or sports.
Older readers may remember a seventies soul group called Three Degrees. (If they arrived now, they would be 43 Degrees.) "Is this the beginning," they sang, "or is it the end?" Today is both: the start of eight weeks of cricket between England and South Africa, and the end of Ben Stokes' ODI career in front of his home crowd. He announced his retirement yesterday with a very insightful explanation of the "endless" demands placed on players. If you can't stop the program, get out of the kitchen.
England may miss batsman Stokes, who has reached 47 since the resumption of the white ball in 2015. They won't miss Stokes, who averages 44 in the same period and ranks 86th in the ODI world. They will miss Stokes fielding, and perhaps most of all Stokes' outstanding presence. But we the fans, as well as enjoying the precious moments of the 2019 World Cup, will still be able to enjoy his great strike – only he will do it in white. Who needs 50-over cricket when the Test team specializes in barnstorming 50-over runs?
Stokes' departure, which follows that of Morgan, would open the door to a left-hander in the top five. It looks like an interesting option for Jos Buttler and Matthew Mott: whether to go with David Malan, who did well in Holland last month and could also rest Joe Root, or to go with Ben Duckett (who seems who has grown since he last played for England), or promote Moeen Ali and send in Sam Curran to be Stokes-lite, or just forget the left-and-right and bring back the very useful Sam Billings?
Everything is for the future. Now we England need a win after the loss to India, which not only resulted in two series defeats but the reckless planning that led to the fifth test being shelved this summer. And we have South Africa looking for an upset with a reshuffled side.
Their white-ball captain, Temba Bavuma, has a broken shoulder, so Buttler will line up with left-arm spinner Keshav Maharaj. It's 12.30pm UK time – see you with the team shortly.